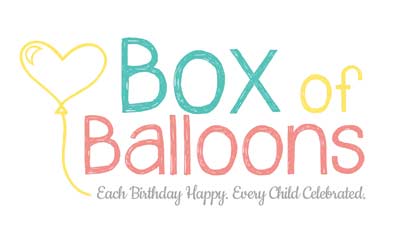 Benefit
Birthday party boxes can be requested for children up to age 12
More Information
Box of Balloons Is a 501(c)3 nonprofit on a mission to make each birthday happy and every child celebrated. We partner with community advocates to give children in need a birthday party. We believe every child deserves to be celebrated.
A birthday party is so much more than balloons and decorations, it is a celebration of life, a day of joy. A birthday party provides a child with confidence, self-esteem and positive self-worth. Birthday celebrations give children in need a positive memory that will last them a lifetime.
Birthday party boxes can be requested for children up to age 12. For any exceptions, please contact us.
Each birthday box includes the following based on the theme requested:
Tableware
1 dozen cupcakes and 1 box of candles
Party game/activity
Decorations (streamers, balloons, curling ribbon, tape)
Birthday gift
DIY decorations
Party favors (at least 6)
This is a free community resource.
We require birthday fulfillment requests to be submitted with at least two weeks' notice and must be submitted by your caseworker or social worker. We understand that is not always possible, and a request can be submitted by your case or social worker at any time but emergency requests can only be filled with direct communication with our Chapter Leader for urgent arrangements. If it's less than two weeks' notice, we cannot guarantee it can be fulfilled. You can learn more at Linktr.ee/bobokc or by emailing Kristi Rhoades at boxofballoons.oklahomacityok@gmail.com or by visiting our main website at boxofballoons.org
Location & Contact
boxofballoons.oklahomacityok@gmail.com