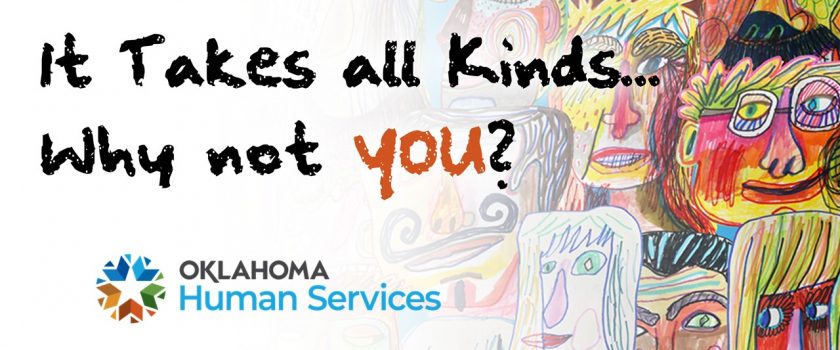 OKDHS has an ongoing need for Therapeutic Foster Care (TFC) families who are willing to open their hearts to provide a loving, safe home for children and youth with complex survival skills – often a result of past trauma. It takes all kinds of families to serve Oklahoma's children and OKDHS is asking, "Why Not You?"
What is TFC?
The Therapeutic Foster Care (TFC) program assists school-aged children who have unique life experiences that require enhanced understanding of each child's individual needs. Children in this level of foster care require more specialized therapeutic services to improve their well-being and families who are willing to come alongside children who come from hard places or circumstances.
"Our TFC families can make the difference between children growing up in group homes or shelters, or growing up in a family," said OKDHS Director of Child Welfare Services Dr. Deborah Shropshire. "We know this work is hard, but it is so worth it, and our existing TFC families prove that success is possible for our kids with the right supports!"
OKDHS support
Families who are considering TFC should know they will never be alone. An entire team at OKDHS and our partner agencies is committed to the success of TFC foster families and will support you every step of the way. TFC families receive a number of additional supports, both from OKDHS and private agencies, to help children succeed in their home including arranged respite care, medical insurance for the children, counseling services, access to 24/7 crisis response, trauma-informed training and many other supportive resources.
Learn more
To learn more, submit an inquiry. Someone will contact you within 3 business days or you can call 1-800-376-9729. More TFC families are needed.
It Takes All Kinds… Why Not You?